Show Highlights
---
2019 Australian Sheep & Wool Show, Bendigo
| | |
| --- | --- |
| Ewe, Under 1.5 years showing a full mouth of milk teeth | Fairview 1st & 2nd |
| Ram, Under 1.5 years showing a full mouth of milk teeth | Fairview 1st & 3rd |
| Ram with Best Head | Fairview |
| Victorian Champion Ram | Fairview |
| Reserve Junior Champion Ewe | Fairview |
| Reserve Senior Champion Ram | Fairview |
Fairview Henry
Won Ram with Best Head
Henry is a leading sire in the stud and an absolute favourite of ours. He has great depth of body, a dense fleece and wonderful temperament. Henry won Supreme Champion at the ASWS in 2018.
Fairview 180421
Won Ram, Under 1.5 years showing a full mouth of milk teeth.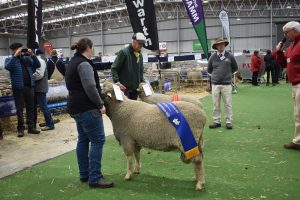 Fairview Mack (17161)
Won Ram, Over 1.5 and Under 2.5 Years March Shorn
Mack is a big solid ram weighing 113kg at last weigh in. He is a son of Marcus whose semen is available for purchase.
Show Highlights
---
2018 Australian Sheep & Wool Show, Bendigo
| | |
| --- | --- |
| Junior Champion Ram | Fairview |
| Reserve Junior Champion Ram | Fairview |
| Senior Champion Ram | Fairview |
| Victorian Champion Ram | Fairview |
| Grand Champion Ram | Fairview |
| Reserve Junior Champion Ewe | Fairview |
| Victorian Champion Ewe | Fairview |
| Supreme Champion Polwarth | Fairview Ram |
| Most Successful Exhibitor | Fairview |
Australian Sheep & Wool Show 2018
Supreme Champion Polwarth - Fairview Henry
---
2017 Australian Sheep & Wool Show, Bendigo
| | |
| --- | --- |
| Junior Champion Ram | Fairview |
| Reserve Senior Champion Ram | Fairview |
| Reserve Junior Champion Ewe | Fairview |
| Victorian Champion Ram | Fairview |
| Grand Champion Ram | Fairview |
| Ram with the Best Head | Fairview |
| National Polwarth Pair | Fairview |
| Supreme Champion Polwarth | Fairview |
| Most Successful Exhibitor | Fairview |